Book reviews
Michael Pembroke's book reviews include: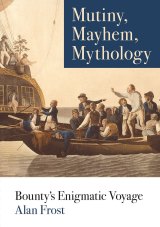 The Bounty review: How Peter FitzSimons and Alan Frost see the mutiny
These two books are as different as their two leading characters. William Bligh possessed preternatural skills as a sailor and navigator but he was not a leader of men. He was sometimes bold and courageous but he lacked moderation and humanity; and he was all too often motivated by self-advancement and the accumulation of money and prestige.
Betjeman
by A N Wilson
Mild literary controversy has attended the publication of A.N. Wilson's biography of genius and former poet laureate, Sir John Betjeman. The biographer of, among others, Tolstoy and Jesus Christ, was fooled into relying on a hoax love letter to Betjeman. The telltale indication of its lack of authenticity was a code embedded in the letter which read "AN Wilson is a shit". Simon Jenkins revealed in The Guardian Weekly that it was sent by Betjeman's official biographer, Bevis Hillier, who was miffed by Wilson's effort. Wilson said he had not the slightest interest in knowing who it was but that it was very childish.
Six Frigates
by Ian W Toll
After 1776, the merchant ships of the former American colonies ceased to enjoy the protection of the Royal Navy. For the first time, richly laden and defenceless merchant vessels, flying the Stars and Stripes (with only 15 stars in 1794), came to be seen on the high seas and in foreign ports. They suffered dreadfully in the Mediterranean at the hands of the Barbary States of Tripoli, Tunis, Algiers and Morocco, which practised a form of institutionalised piracy, supported by the state. American ships were captured by fast-moving corsairs operating out of ancient sea ports along the North African coast.
Winnie & Wolf
by A N Wilson
The central character of Winnie & Wolf is Winifred Wagner, an Englishwoman who, like Unity and Diana Mitford, was curiously drawn to Hitler. Its core is the profound music of Richard Wagner, her father-in-law. The set is the Bayreuth Festival.
The title of each chapter is drawn from Wagnerian opera – The Flying Dutchman, Lohengrin, Tannhauser, Mastersingers, Parsifal, Tristan and Isolde and Gotterdammerung. Wilson is passionate about the music and reflects on its significance to the Third Reich, Teutonic mythology and Christianity.